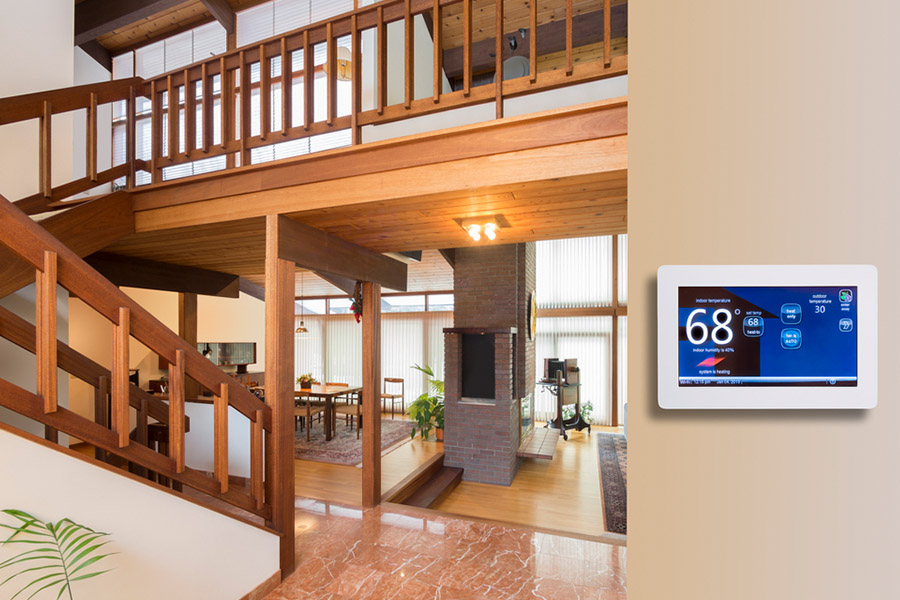 Why Install A Smart Thermostat In Topeka? | Secure24 Alarm Systems
Modern smart thermostats have advanced quite a ways past the rudimentary device for controlling your HVAC system. If you want to install a smart thermostat in Topeka, you stand to gain an abundance of comfort with much less work. Featuring Wi-Fi, temperature settings for multiple zones, and the convenience of home automation, these remarkable instruments will bring down your utility bills and improve your home's overall comfort and safety.
What Are Smart Thermostats In Topeka?
After your install a, your new smart thermostat will run in a comparable fashion as your previous model in the sense of core usability. The style may be a bit more elegant, but you can still glimpse the current temperature. You can still raise and lower your temperature settings directly at the unit, and your thermostat will still allow you to quickly adjust settings for fan, heat, and cool.
But, if you install a smart thermostat in Topeka, you will benefit from a wide array of exciting features. That's because your home's comfort control is linked into a greater network, like your virtual assistant or your comprehensive home security. Using a smart hub or smartphone app, you are able to prearrange your smart thermostat to alter your home's temperature settings automatically at whatever times you choose or to respond to different stimuli. The bottom line is a property that is more energy conscious and comfortable.
Why You Should Install A Smart Thermostat in Topeka
There are various reasons to upgrade your standard unit to a smart thermostat:
● Ease of control through a cell phone app. You can direct the thermostat from a distance via a cell phone app such as the intuitive platform from ADT. Are you feeling a bit overheated while you're struggling to get some rest? You can easily access the app and adjust the A/C without getting up. You can also monitor your property's temperature while on summer break, and tweak the settings to save energy when nobody's there.
● Take advantage of scheduling. Your smart thermostat gives you the ability to use a schedule for heating and cooling. Arrange multiple temperature changes to complement your daily life. Reduce the heat for bedtime, then increase it once more a little bit before you arise. You might even design specific scenes for certain situations -- like a scene for when you're having guests over or one for when you have a fire going in the winter.
● Lower utility bills by using home automation. An incredible advantage of using smart thermostats is they save money on utility costs. Because you can effortlessly alter comfort levels as needed in regards to seasonal fluctuations, weather, or time of day. You won't throw money away heating a vacant residence. In addition, by programming schedules, your clever new tool makes automatic adjustments. Various utility companies are known to offer incentives and rebates under specified circumstances.
● Utilize vocal directives to direct your property. If you decide to install a smart thermostat in Topeka, you also have the opportunity to program it to operate with a smart speaker device from Amazon or Google. This allows you to adjust the settings through simple spoken commands.
● Join your thermostat to other home automation items. If your smart thermostat is part of a comprehensive home protection plan, you have the chance to join all your elements into a unified network. This helps keep your home safe from environmental emergencies. For example, you might set your thermostat to engage the ventilation fan when your fire alarms sense excess heat.
Upgrade Your Home With A Smart Thermostat In Topeka Today
If your current thermostat doesn't meet your home comfort requirements, you should upgrade to a versatile smart model. These devices streamlined, easy to use, and offer substantial financial savings in the long run. It's also best when you combine it with a modern home protection package. Contact us today at (785) 268-2982 or submit the form below to inquire about your smart thermostat.